**Be sure to check out our Facebook page, The Lily Farm!**
View Daylily Landscaping Ideas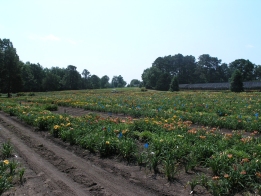 GARDEN CLUBS and CHURCH GROUPS: Many consider The Lily Farm to be one of the most unique flower farms to visit in all of the south! If you have never been here before, consider a visit. We promise you will not be disappointed! We have special offers available for your visit to The Lily Farm. Please contact me at (936) 572-1962 or via email at thelilyfarm@gmail.com for more information!
First Time Order SPECIAL: If you are a first time buyer on the internet, we will MATCH in dollar value your ENTIRE first order with selections of our choice that should fit well in your growing area! So, if you order $100 of plants, we'll send you an ADDITIONAL $100 in plants, our choice. Or, order $50 of plants, and we'll match you with $50 of our choice. There is no dollar limit to this offer, so jump right in and grab this superb offer while it is available!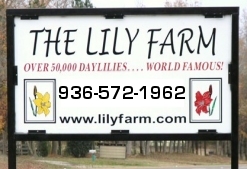 I would like to personally welcome each and every one of my first time visitors to the Lily Farm site. Please feel free to bounce around this website, as each link offers a lot of information that may make your visit here more enjoyable.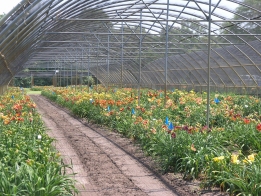 The Lily Farm is one of the largest daylily farms in the United States. One of the unique aspects of the Lily Farm is the fact that we sell seedlings to the general public by the clump during our open house. Since we have 4 acres of daylilies stretched across 6 acres of land, this is truly a wonderful venture to come out and put a flag beside the daylilies YOU would most like to have.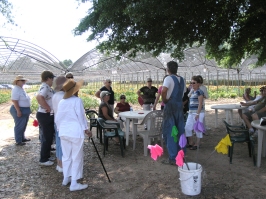 Bring your family out next season to one of the most unique places to visit in all of the South…The Lily Farm!